Enhance Surveillance Capabilities with HIKVISION DS-9664NI-M8 NVR.Introduction: In the realm of video surveillance, HIKVISION continues to push boundaries with its state-of-the-art solutions. Among its impressive lineup, the
HIKVISION DS-9664NI-M8
stands out as a remarkable 64-channel 2U 4K NVR. Packed with advanced features and cutting-edge technology, this NVR empowers businesses to capture, store, and analyze video data with unmatched precision.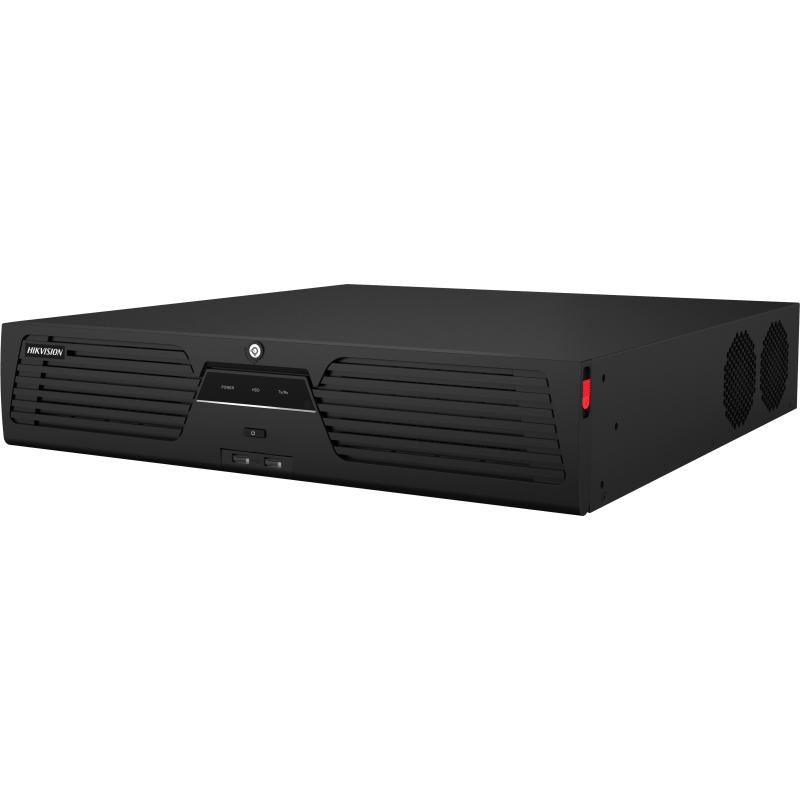 Seamless Integration and Unparalleled Performance: The HIKVISION DS-9664NI-M8 NVR seamlessly integrates up to 64 IP camera inputs, providing comprehensive coverage for even the most demanding surveillance scenarios. With decoding capacities ranging from 2 channels at 32 MP to 32 channels at 1080p, this NVR ensures pristine video quality and accurate analysis. Its impressive incoming and outgoing bandwidth of 400 Mbps guarantees smooth and uninterrupted data transmission, even during peak network usage.
Immersive Visual Experience: Equipped with two HDMI and two VGA interfaces, the HIKVISION DS-9664NI-M8 NVR delivers an immersive visual experience. Supporting 8K resolution or dual 4K video outputs, it brings exceptional clarity and sharpness to every frame. Whether you are monitoring a sprawling industrial complex or a critical public space, this NVR ensures that no detail goes unnoticed, providing you with the most comprehensive surveillance coverage.
Advanced Analytics and Special Camera Support: HIKVISION understands that modern surveillance extends beyond mere video recording. The DS-9664NI-M8 NVR incorporates advanced streaming technology and supports a wide range of special cameras, including people counting, ANPR, and fisheye cameras. This enables intelligent analytics and empowers security personnel with actionable insights. From crowd management to license plate recognition, the NVR's capabilities transcend traditional surveillance, ensuring enhanced security and operational efficiency.
Reliable Data Storage and Protection: Data security is of utmost importance in any surveillance system. The HIKVISION DS-9664NI-M8 NVR supports RAID 0, 1, 5, 6, 10, and N+M hot spare configurations, ensuring robust data storage and minimizing the risk of data loss. These advanced storage options provide redundancy and reliability, keeping your critical video data safe and accessible. With the HIKVISION DS-9664NI-M8 NVR, you can have complete peace of mind when it comes to your valuable surveillance footage.
HIKD: Your Trusted Partner in HIKVISION Solutions: An essential element of HIKVISION's success lies in its partnership with HIKD, a trusted distributor of HIKVISION products. HIKD's commitment to innovation, exceptional product range, and dedication to customer satisfaction make them an integral collaborator for businesses seeking top-tier security solutions. With HIKD's expertise and support, customers gain access to a comprehensive suite of HIKVISION products tailored to their unique requirements. Count on HIKD to deliver the latest surveillance technologies and ensure a seamless experience throughout.
Conclusion: The HIKVISION DS-9664NI-M8 NVR redefines surveillance capabilities with its seamless integration, unmatched performance, and support for special cameras. Its advanced analytics, reliable data storage options, and immersive visual experience make it the ideal choice for businesses, institutions, and organizations seeking to elevate their security systems. Embrace the power of the HIKVISION DS-9664NI-M8 NVR and unlock the full potential of your surveillance infrastructure. Trust in the partnership between HIKD and HIKVISION to deliver exceptional products and unparalleled support.
Contact HIKD for HIKVISION NVR Solutions: Website | Email: sales@hikdistribution.com
About The Author